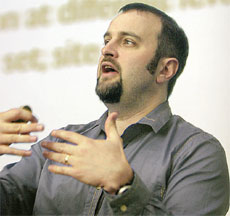 Craig Nevill-Manning is a great example of a kiwi using ICT to innovate right around the world.
Craig founded Google's first remote engineering center, located in midtown Manhattan, where he is the Engineering Director. He also put his Waikato Computer Science PhD to good use invented the technology which drives Google's Froogle, a comprehensive and ground-breaking product search engine.
NZCS are proud to announce that Craig will be keynoting at the 50 year celebration conference, outlining how a young chap from Blenheim ended up innovating for one of the world's best known technology companies.